"
I can't decide what I want to eat for lunch. Do you have any advice?
"

—Zoe Trent
Pets simply love food, especially cookies. When the thought bubble beside your pet is a biscuit you know they're longing for sweets. When you tap on the thought bubble you can choose which biscuit you want to feed them.
You can feed them free biscuits, hearts biscuits and cupcakes. The first one is, as the name says, for free. You buy hearts biscuits with hearts, cupcakes with bling. Its easy and funny. Choose your biscuit and then flick it to your pet. They can't get enough, but when the meter is full, then feeding time is over.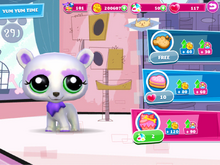 When you feed your pets you will earn experience points. You can't see how many experience points you have to get to level-up, but when the golden line reaches the star, your pet levels-up. The costlier the game the more experience points you get.
Of each breed you can get 5 variations. The amount of experience points you earn stays the same in each level, but the amount of kibble you get, gets higher with each level. Remember that you have to play with the last variation you've got, otherwise you can't level-up.
In the tables you can see how many rewards you get, how long you have to wait and how many times you need to feed your pets to level-up. With free biscuits you'll have to feed your pet 75 times to get the 5 variations.
Level one Edit
Which food
Cost
Reward

Kibble

Reward

Experience points

Time interval
Level-up
Free biscuits
0
40
30
00.01
5 feedings
Hearts biscuits
10 Hearts
80
60
Cupcakes
2 Bling
120
90
Level Two Edit
Which food
Cost
Reward

Kibble

Reward

Experience points

Time interval
Level-up
Free biscuits
0
80
30
00.04
10 feedings
Hearts biscuits
10 Hearts
160
60
Cupcakes
2 Bling
240
90
Level three Edit
Which food
Cost
Reward

Kibble

Reward

Experience points

Time interval
Level-up
Free biscuits
0
120
30
00.38
15 feedings
Hearts biscuits
10 Hearts
240
60
Cupcakes
2 Bling
360
90
Level four Edit
Which food
Cost
Reward

Kibble

Reward

Experience points

Time interval
Level-up
Free biscuits
0
160
30
3.25
20 feedings
Hearts biscuits
10 Hearts
320
60
Cupcakes
2 Bling
480
90
Level five
Edit
Which food
Cost
Reward

Kibble

Reward

Experience points

Time interval
Level-up
Free biscuits
0
200
30
13.03
25 feedings
Hearts biscuits
10 Hearts
400
60
Cupcakes
2 Bling
600
90