Players who want to know who Blythe is, need to learn something about collecting dolls. Blythe is a doll created in 1972 by Allison Katzman. Allison Katzman worked for the toy company Marvin Glass and Associates (1914-1974). The doll was bought and produced by the toy company Kenner. During one year this doll was sold in the USA, Australia and Japan. The original advertisement is still on YouTube.
There were four original, fashionable dolls released in 1973. There was a brunette, auburn, blonde and redhead Blythe. They all could change their eyes in the colors blue, green, pink or orange. Blythe had 12 outfits based on the fashion trends of the seventies: Golden Goddess, Pretty Paisley, Love 'N Lace, Medieval Mood, Roaring Red, Pinaforce Purple, Pleasant Peasant, Lounging Lovely, Aztec Arrival, Kozy Kape, Pow-Wow Poncho and Priceless Parfait.
Children didn't seem to like Blythe. They were afraid of this big-headed doll with changeable eyes. Some people write that the eyes were originally designed for a dog, not for a doll. Others write that the designer was inspired by Margaret Keane, an American painter famous for her 'Big Eye' artwork. This painter was very popular during the 60s. Keane said that children inspired her to paint big eyes. For her eyes are the most expressive part of the face.
In the seventies children didn't like the doll, but in 2000 Blythe made a come-back. Gina Garan published a book called 'This is Blythe'. Garan was a video and tv producer who travelled around the world for her job. She was also a doll collector and she practiced her photography skill with a doll who looked like her. She filled an entire book with pictures of Blythe travelling around the world. Blythe became very popular, especially in Japan.
The toy company Hasbro, who bought Kenner in 1991, gave the Japanese toy company Takara the right to produce and sell a new edition of Blythe. She became so popular among adults that in 2004 Hasbro decided to sell the doll in the USA. In 2010 Hasbro produced a new version of Blythe in combination with the pets of Littlest Pet Shop. "Blythe loves Littlest Pet Shop" was born and became popular all over the world.
"In 2010, the LITTLEST PET SHOP licensing program will further expand with the introduction of BLYTHE LOVES LITTLEST PET SHOP, allowing licensees to become even more creative in bringing trendy and fashionable LITTLEST PET SHOP-licensed products to the global market across all major categories." [1]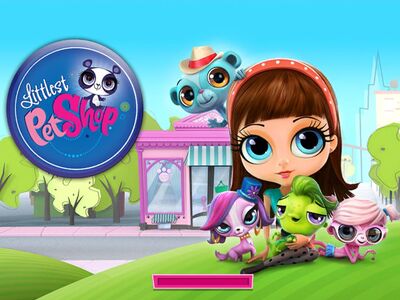 References
Reading more