There are two ways to access the 'Social Menu'.
On the top left corner of the screen you see your avatar and the text 'Social'. Tab on your avatar or the text 'Social' next to it to open the menu.

On the bottom right corner of the screen you see a small
Treasure Chest
. When you tab this tool button you have access to the main menu. The second option is
Social
. When you tab on the
Man Woman Icon
you have access to the
social menu
.
In the next screen you can:
Visit Dream Town
Visit your 'Friends' their town and see their 'Wish List'
Add Friends that are on 'Facebook'
Add new friends with their 'Friends Code'
Add 'Neighbors' that live nearby
Add new 'Friends' from the daily list
The pets in Littlest Pet Shop love to travel and visit friends. The social aspect in the games is very important. In the quests the head characters Pepper Clark and Vinnie Terrio will ask you to make friends and give gifts to friends. There is also an award for gifting called 'Gift Sender'. Above all, gifting is the only extra way to earn hearts and hearts are very essential in this game.
This category shows you all the things you can do with your Friends. When you add an article, image, or subcategory to this category, don't forget to add [[Category:Social]] at the end of its page.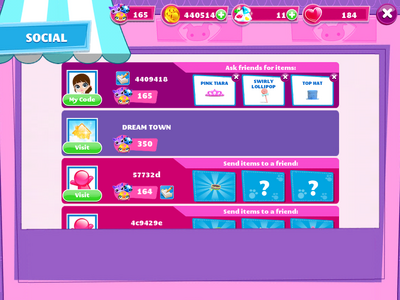 Popular Pages
Edit
Trending pages
All items (12)